Review – Jim Dunlop Gator Grip 1.14mm
December 13, 2018
February 10, 2021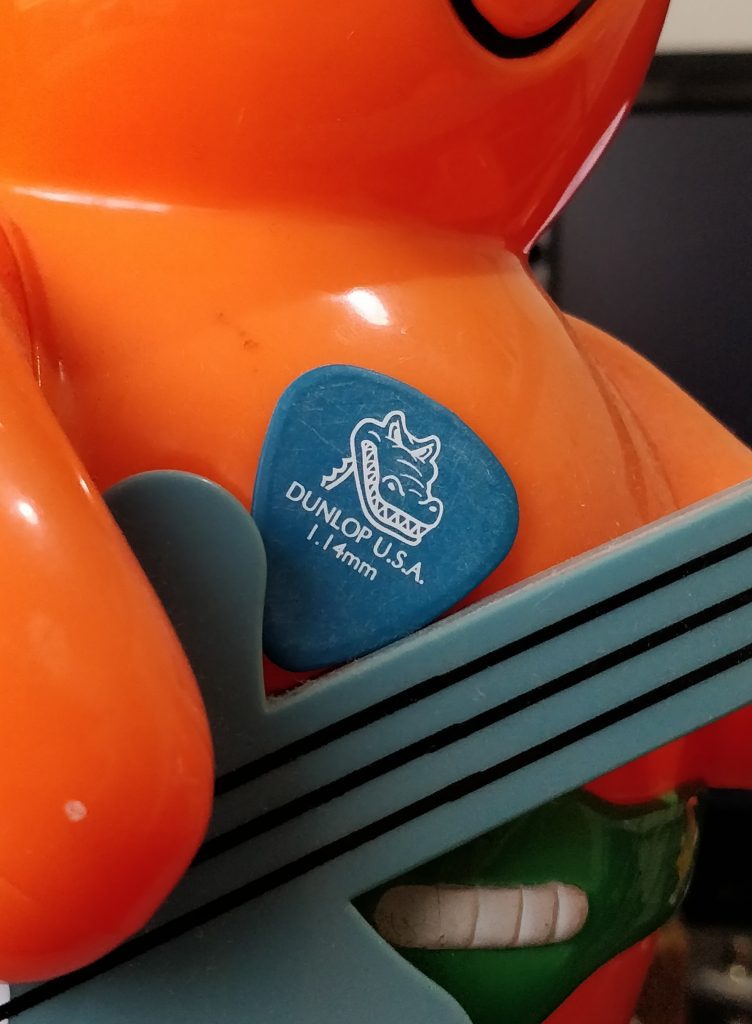 There's a few picks in the guitarists' pantheon that get criminally underappreciated. Some of these are down to their shapes, materials, cost or advertising, but some get ignored because of their more famous cousins.
Such is the case with the
Gator Grip
series from
Jim Dunlop
. While the 351 Tortex and 500 ranges get all the glory of being the picks that everyone grabs when they're buying strings, the Gators get a slightly short shrift. This is due in part to the fact that they're less widely stocked in guitar shops, but I've always felt that this was a bit of a shame. Here, then, is 
Heavy Repping!
's way of redressing the balance, and giving the angry gator its due.
This does, however, present a problem – the Gator Grip is not that great a pick. After serious A/B testing with a number of items, some glaring concerns started to raise themselves. Set directly against the 
HR!
test .73 Tortex, the 1.14mm thick Gator sounds dull and a bit wooden. Hmm, I thought, perhaps this is just an acoustic thing, so I ground its little blue body into my electric strings as well. As exciting as a tax form, it was all going fine until I put it against other stuff.
I call this the Big Muff problem – when you think something sounds amazing until you put it in context and realise it's a shrill/woollen mess (depending on your settings). So it was with a plectrum I desperately wanted to defend. The grip is like soap, and with plenty of contenders for your money inside Dunlop's own range it seems daft to entertain something like this.
Tonally, it had the softness of Nylon without the grand top-end, and the bass was indistinct and mushy. Stacked against just about anything else in my collection, the Gator fell short, falling to picks half its thickness for brightness, body, grip and enjoyment. It's worth noting that I've played the 2mm ones and got something out of them, but I was constantly trying to get a grip of it, so they don't come highly recommended either.
Like plugging in an old Line6, this was a bitter disappointment from a plectrum I remembered fondly. Of course, this is bound to be someone's favourite, but it certainly isn't mine. 
Vitals
:
1.14mm thick
Delrin possibly, though Jim Dunlop don't say on their site
Made by a company who make better stuff
Cost Per Unit: These come in packs of 72. 72!
A flimsy 4/10
A painful trip down memory lane
www.jimdunlop.com
https://www.heavyrepping.com/the-makers-dozen-ruvane-kurland-the-original-coin-guitar-pick-company/
https://www.heavyrepping.com/the-little-king-cult-of-the-jazz-iii/
3063
category,post_tag,post_format,maker
Reviews
304
acoustic guitar
acrylic
belarus
bevel
blogging
boutique
carbon fiber
carbon fibre
chicken picks guitar picks
chickenpicks
company
content writing
dawman
delrin
dragon's heart guitar picks
dream theater
equipment
fast
fountainhead
glass
gravity
gravity guitar picks
guitar
guitar picks
handmade
heavy repping
herdim
howling monkey
howling monkey picks
information
instrument
interview
jazz
jim dunlop
john petrucci
lithuania
mathas guitars
matt finish
millimetres
model
music
musician
new york
nylon
pick
pick geek
picks
plastic
plectra
plectrum
plectrums
polished
profile
review
rochester
san francisco
shredding
signature
steel
t1 picks
tagua
thermoset
tone
tools
top 5
triangle
ultem
ultex
v picks
vegetable ivory
very bad
winspear instrumental
worf shop