Into View – Jeff White of Plectrum Spectrum
April 8, 2020
February 10, 2021
Collector, player, enthusiast and music lover Jeff White of Plectrum Spectrum is one of an inner circle of pick collectors in the modern era. An old-school chum of Joe Macey and Guy Devillez, Jeff makes display cases for pick collectors, and given both his body of work and clear joy for the Plectroverse, I collared him for a heavy chat about his company, his collecting, and why picks matter to him.
HR – Thanks for talking to Heavy Repping! To the unaware, how would you describe Plectrum Spectrum?
JW – Plectrum Spectrum Guitar Pick Displays is about taking the ubiquitous guitar pick and making it a work of art! PS displays are designed to show off both sides of your guitar pick collection using a double-sided float frame. It is simply a way to get your concert picks out of the plastic Baggies, coin holders and sock drawer for all to see.
HR – What got you into collecting picks? How long have you been doing it?
JW– I got into picks around 1983, and I have been collecting ever since. What got me into picks was a Loverboy concert in Mobile, Alabama. A friend was hired to do the load-in/load-out for the band. I was talking to him after the show from the stage. He was gathering the loose picks on the stage where Paul Dean was playing and handed me one. From that point on I was hooked. I still have that pick.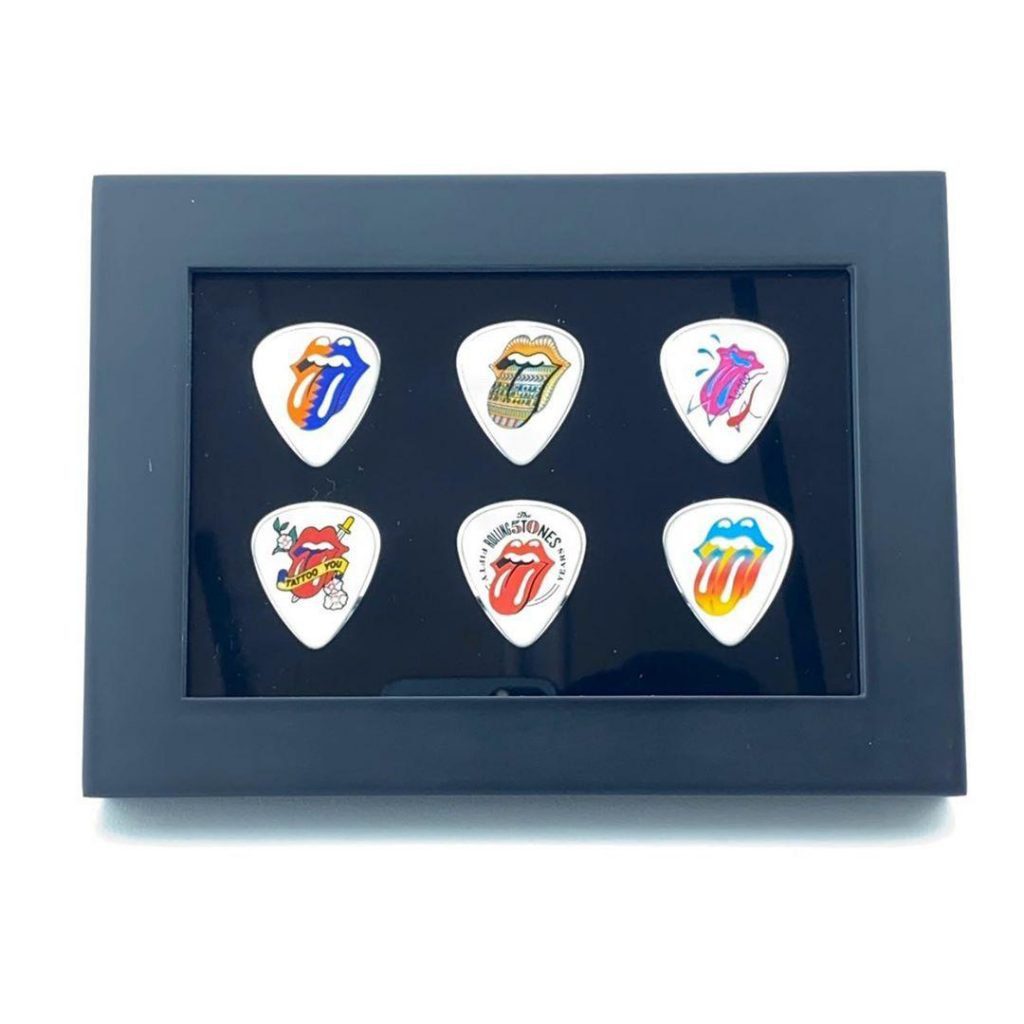 HR – Can you remember what the very first pick was that started you on this mission?
JW– The Loverboy pick mentioned above. I would like to add that a few years later I inherited my grandfathers 1967 Gibson ES-335. I have been playing guitar since I was 11, and this is the first guitar I ever remember holding. It felt giant at the time. When I received the guitar there were numerous picks in the case. Most notably a few Les Paul guitar picks. These were sold in the stores at this time. I thought they were very cool and still have them to this day.
HR – What are some of the best finds you've made over the years?
JW– I was involved in an online trading group called Pick'Net run by Steve Leavitt out of New Hampshire. This was in the early 90's. We use to trade concert picks among the members using an email list with a word Doc listing picks you had to trade. Within that group was a list of bands, and guitarist you could write to and ask for picks. I scored a lot of great picks this way. I would simply write a nice letter asking for picks and include a self-address-stamped-envelope to make it easy for sending picks back to me. My best score this was was from Dimebag Darrell of Pantera. He sent me about 20 different picks. This is where a lot of my "finds" came from, trading and writing to artist.
I worked as a Flight Attendant for 22 years. I was fortunate to scour the globe for guitar picks. I would travel to Japan 3 times a month and browse the guitar stores for picks. They have the greatest selection of artist picks for purchase. Dunlop released an Artist Series called Dunlop Series that was only available in Japan. Artist in the series were Vai, Satriani, Hoey, Sepultura, Santana, Janes' Addiction, Lifeson, and several othes. I would buy those picks and bring them back to use as traders in the Picknet group.
My best "finds' were vintage picks. I really didnt start to search out vintage picks until I met Joe Macey, and Guy DeVillez. Guy Devillez had a quarterly newsletter called Pick Tips. It was a great resource for collectors on learning what was out there and how to find more. I wrote a few articles for the newsletter. At some point Joe Macey and Coupe (Guy DeVillez) drove down to my house to do some trading. I was blown away at the vintage picks they both had. They had very rare items going all the back to the early 1900's. It was at this meeting that I learned of Will Hoover's book called : Picks – The Wonderful Saga of Vintage Celluloid Guitar Plectrums. From that point on I was hooked on finding vintage picks as well as concert picks. Joe and I made a few pick hunts in the Western region of the USA. Both are great guys!
On my layovers in the USA I would scour every guitar store I could find. The older the store the better. I found boxes of Gibson Tri-Picks, mosaics/clown vomit, I located all the EKO cards you see around after I found their old warehouse in Milwaukee. Probably my two best finds were over 100 vintage tortoise shell picks that an old violin luthier had, and finding the Luke Hart cross pick that you see on page 70 of his book. Joe Macey has that pick now.
Most my finds now come from NAMM, and concerts. I've met a lot of pick makers too that keep me abreast on what is out there.
HR – What was the journey like developing the sheeting for preservation and display? Did you have any alternative materials in mind at first?
JW– I started this back in late 2015 and brought my first prototypes to market in early 2015. The journey was quite challenging in the beginning. Finding acrylic suppliers, finding laser cutting services and CNC services took time. Finding the right sized cut out was a challenge too. There are many variances in the size of a picks. Some are too small, too big, and never just one size fits all. Finding a frame supplier was probably the easiest of all.
I never did consider anything other than acrylic. It has worked great for me so far.
HR – What plectrums do you favour when you're playing?
JW – I really like this V-Pick that Vinny Smith (owner) sent me. It hangs on my keychain in a pick pouch. It is pretty worn but still has nice attack and easy to hang on to. I don't recall the model. It just feels right! Great fellow if you ever talk to him. I have a few old tortoise shell that I use. Really nice feel to those as well.
HR – What has it been like watching the plectrum landscape change over the years? What do you think of the newer companies/materials coming up?
JW – From my perspective that changes I have seen are great. Many new companies offer great color printing, new materials, and the artistry of some makers is astounding. Some of the newer companies I like are In-Tune, and Pick Guy. The quality printing available now is awesome. I know Carson and Donna at Pick Guy. I see them every year at NAMM. He makes a lot of great picks for many, many artist. They are very humble and great to hang with. Other companies I like are Pick World, EGO Picks out of Canada, and Gravity Picks.
HR – What advice would you give to anyone looking to get into pick collecting?
JW – There are so many avenues now to get started. I would advise:
Going to shows and ask for picks from the artist and/or techs. BUT if you do, be humble. I still get so many picks this way.
Visit Merch tables and artist meet and greets.
Visit artist web sites where you can buy picks online.
Facebook has several pick trading groups.
There is always eBay BUT use due diligence as there are fakers out there.
Be generous in your trades. It always comes back to you.
Visit old music stores for picks. There are still treasures to be found.
HR – What's been the proudest moment in Plectrum Spectrum's history so far?
JW – My proudest moment was realizing how many people at The NAMM show (2020) knew about my product. Many love the concept. I've since sent frames to different artist and companies. I really only created this to keep my nose in the guitar scene. As a life long guitarist I love being around all the creativity.
HR – Many thanks for this interview – both I and the HR! readers appreciate it. All the maximum best!
JW – My pleasure. Thank you John!
https://www.heavyrepping.com/new-youtube-video-top-5-of-the-first-quarter-2020/
https://www.heavyrepping.com/new-youtube-video-my-collection-as-of-11-4-20/
3063
category,post_tag,post_format,maker
Interviews
interview
jeff white
plectrum spectrum
plectrums
vintage picks