Into View – Brian Bouchard
June 23, 2020
February 10, 2021
It's not often I can interview a published author for the Rep, but today is just such an occasion. Founder of Pick Collector's Quarterly and author of Guitar Picks Of Rock And Roll, Brian Bouchard sat down to have a talk with the Rep about history, collecting and the magic of discovery.
HR – Thanks for talking to Heavy Repping! For those who don't know, can you introduce yourself?

BB – Thanks John.  Happy to do this.  I'm Brian Bouchard, author of the 2008 book "Guitar Picks of Rock & Roll" and former Editor in Chief of "Pick Collecting Quarterly", which was an online quarterly magazine dedicated to the hobby.  I'm also known as Pick-Hunter on FaceBook and eBay, as well as on my site http://www.pick-hunter.com.

HR – What was your background prior to collecting?

BB – I've been collecting things my whole life, but really started to collect heavily in rock & roll memorabilia around 1985 when I joined the Army.  I retired from service in 2009, but still work for the Army to this day in Military Intelligence as a DoD civilian.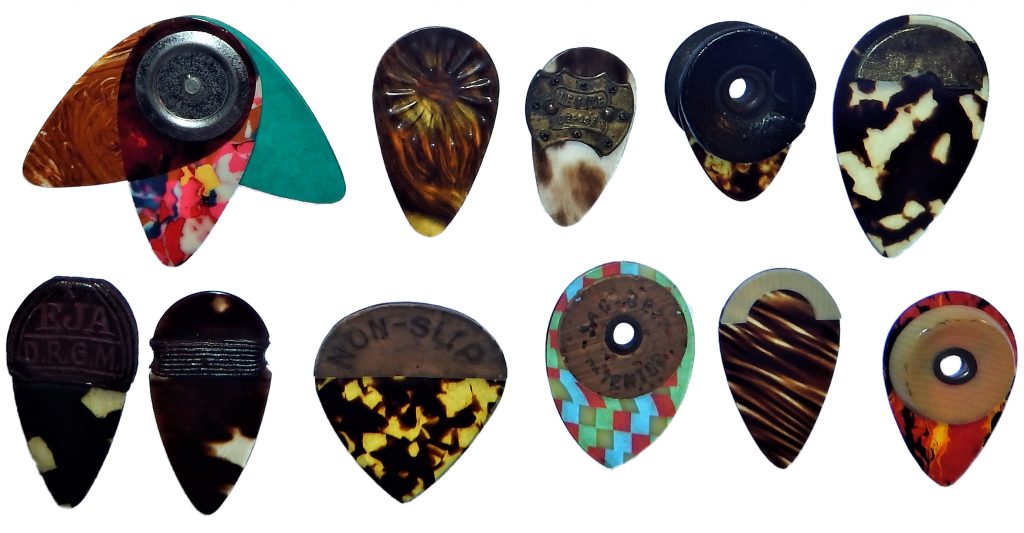 HR – What was it that got you into collecting picks? Why do you think people have such a pull towards it?

BB – I tend to group collectors into two major categories – the generic/vintage guitar pick collector (which I was for about 10 years) and the artist pick collector which was how I started and where I am back as again today.  I think the new generic/vintage pick collector are usually guitarists who just starts discovering how many different picks there are and start getting fascinated by the variety.  Older picks tend to be very interesting.  I was a big fan of the grip picks, such as cork grip, hole grip, leather grip, cup grip etc.  For the artist pick collector, the initial draw is the rush of getting a pick from one of your favorite guitarists.  It's such a thrill and the pick is an everlasting memento of a day or part of your life that a lot of us often cherish.  Whether it was handed to you or if you were fortunate enough to catch one at a concert, it's a good, clean high that is very addictive.

HR – What was the first pick that you got your hands on? Can you remember where you were and the circumstances surrounding it? 

BB – My first artist pick I scored was from Gene Simmons of Kiss in 1988.  I had been going to a lot of concerts in the 80s but was never lucky enough to score a pick.  It was one of the few times I ever caught a pick in mid air.  Usually, it's a mad scramble on the floor to get one.  It was an awesome feeling, great show and a memorable day with family and friends. You never forget your first.  lol

HR – What was the collecting community like when you first started? How did you find out about each other?

BB – Like a lot of us, back then, I didn't know there even was a community or others like me.  Then, when I discovered there was a Yahoo Group for trading picks called Picknet, that's when I started making friends with other collectors.  Around the same time, I also found out about  Guy "Coupe" Devillez' monthly publication called "PICKTIPS".  It was awesome to discover there were other pick nerds like me.
HR – Why did you start up Pick Collecting Quarterly?

BB – I started PCQ because I had just put out my book and was looking for other ways to promote the hobby.  I had liked the way Coupe had involved others for articles in PICKTIPS and thought I could do something similar yet more dynamic with the help of what the internet had to offer at the time.  I had accumulated a bunch of knowledgeable collector friends while putting the book together and thought I could organize and put out a lot of their knowledge while also highlighting some of the incredible picks they had in their collections.  I think it worked out pretty well.  There were some great articles in PCQ.  I often get comments about how collectors miss the PCQ issues.  Unfortunately, my job had made it too difficult for me to continue with the online magazine.

HR – You had a number of big contributors to the publication – Joe Macey, Coupe Devillez, Will Hoover – what were your favourite articles out of the run, and by whom? 

BB – That's tough to say … I think I especially liked the articles where the author was the absolute expert about a specific group of picks; for example, Craig Hopkins, the curator of the Stevie Ray Vaughan museum doing the SRV pick article.  I also enjoyed doing the Collector of the Quarter piece where I  captured an interview like this one and posted some photos of their favorite picks.  I was also quite proud of my article about real Tortoise Shell picks.  I had spent a lot of time researching for that one and there's not another article like it so it still gets referenced often to this day.  But PCQ was such a collaborative effort and I enjoyed all the articles immensely. I don't want to limit mentions to just a few of those contributors.  I am so grateful to all of them and don't want to slight anyone by leaving them out.

HR – What's your favourite memory from the duration of PCQ?

BB – The friendships and camaraderie that were formed while I was putting out those issues are the best things that came out of it for me, personally.  I go to California every year and often meet up with friends like Coupe Devillez, Jon Elliott and, one of my dearest friends, Joe Macey.  Following his SRV article, Craig Hopkins got me tickets to go see Eric Clapton's Crossroads Festival in Chicago.  I ended up taking Rich Richlinski with me to the event.  Rich was one of PCQ's Authors and Collector of the Quarters, whom I had never met before.  The day before the concert, I visited with Dave Monti at his house.  Dave was one of the first collectors I met and traded with on Picknet. We did some trading and took me out to eat.  That was a great weekend. I love promoting the hobby and scoring rare picks, but the best part of all this has been the great friendships and memories I've experiences as a result of running PCQ and being involved in the hobby.

HR – Did you have a specialist interest in one area of the collecting scene? What pulled you into that?

BB – I've always gravitated towards trying to get the rare pick that very few collectors have.  The rarer, the better.  I think many are like that … wanting the pick they will probably never have.  I've been pretty successful.

HR – How has the pick collecting landscape changed since you started?

BB – While modern technology has brought the pick collecting community closer, it has also opened up the means for dirt bags to forge fake picks that are quite convincing.  These counterfeiters are a real cancer to the hobby.  


HR – What do you think of the plectrums of the modern day compared to the ones from the Golden Era and pre-Golden Era? Do you think there's something missing, or is the plectrum moving forward?

BB – I've always loved the old and unique stuff, whether it's an artist pick from the 70s or a pre-D'Andrea pick from 100 years ago.  If it's rare, I like it.  If it's also cool in appearance and unique, I love it.  Newer picks are so mass-produced and easier to fake.  Newer picks are cool in that you can get anything you want on a pick, these days, and on a wider variety of material.  But, I'll take a vintage pick every time.  

HR – What are the picks still on your wish list?

BB – Like most collectors, I like to complete sets or groupings of picks.  Right now, I'm missing a small black on white teardrop DAVID GILMOUR / PINK FLOYD pick, as well as a black on white SLASH / GUNS N' ROSES pick in block print.  Each would complete that part of my collection.  I'd also love a Brian May pick with the Guild logo on the back to go with my John Deacon pick, also from Queen.

HR – What advice would you give anyone looking to enter this world?

BB – Talk to other collectors … face to face, if possible!  Trading and talking picks is so much more enjoyable in person. Also, join the various pick collecting groups on Facebook.  There are so many great groups that will help you out in you with your collecting; Vintage Guitar Picks, Picknet, Guitar Pick Maniacs, Guitar Pick Fakes and Scammers and many more!  It's the best way to educate yourself and meet other collectors like you.

HR – Is there anything else you'd like to share?

BB – I would like to invite everyone to Pick-Hunters Ball, which is a pick collectors convention scheduled to be held in Newport Beach California on August 22nd.  Jon Elliott is hosting this event and I'll be there along with Brandon Molale, Steve Rosen, Jeff White, Coupe Devillez, Scott Roderick, Drew Griffin, Joel Ellis and many other long-time collectors.  There will be door prizes, food, raffles and, with this group, a whole lot of fun, for sure!  At the convention, you'll also get to see a rough draft of my next book "Guitar Picks of Rock & Roll 2 – The Deluxe Edition", which will have 3000+ more photos of picks than the first book.  I'm so excited about this event.  I hope to see you all there, if you can make it.

HR – Brian, thank you for talking to me – it's been fantastic.

BB – This has been fun!  Thanks so much for having me.
http://www.pick-hunter.com
https://www.heavyrepping.com/2051-2/
https://www.heavyrepping.com/new-youtube-video-playing-the-giant-chibson-plectrum/
3063
category,post_tag,post_format,maker
Interviews
brian bouchard
coupe devillez
joe macey
pick collecting
pick collector
pick collectors quarterly
plectrum spectrum
vintage picks