Collector's Tales -John Hoyland
June 11, 2021
June 11, 2021
In part 2 of our ongoing series, top cat and all-round dude John Hoyland shares his musical history and plectrums with us, from store-branded to hand-crafted. A great crop!
– JTD
HR – For the people who don't know, can you introduce yourself?
JH – I'm John, originally from Yorkshire, but now living in Cornwall, in the South West <[dramatic pause]> of England. I work as a software engineer. I play 6-string guitar, 12-string guitar, 6-string baritone guitar and 4-string bass.

HR – What sort of music do you make?
JH – I perform a wide variety of stuff, including folk, pop, indie rock, and hymns. However, my main focus at the moment is on creating ambient/drone pieces.
HR – When and why did you start playing guitar? Who were your first influences?
JH – I learned to play brass instruments as a child. My Dad had a classical guitar, and at some point I learned to play a few chords on that, but I really fell in love with guitar in 1984. I was sharing a flat in London with a really talented musician called Dave, and he very kindly let me borrow his acoustic guitar to practice on. After a few weeks I decided I had to have my own, so he took me down town and helped me choose one. At that time I was listening to stuff like The Clash, The Smiths, Billy Bragg, The Police, U2, The Housemartins, The Waterboys, and a mix of folk and folk-rock stuff.

HR – You've listed your very first pick here, which is a beautiful thing to have kept. Where did you get it? What are your memories of that time?
JH – I bought my first guitar in Ivor Mairants shop, and I wanted a plectrum as well. So the guy in the shop sold me one of their Ivor Mairants branded ones, which was actually made by D'Angelico. It's beautiful, but it is really stiff, and I found it quite difficult for strumming. After a few weeks I bought some Dunlop nylon picks, 0.46mm and 0.60mm, which were much easier, and they were what I played for many years. Being me, I kept the D'Angelico pick just in case I might ever need it.

HR – When did you start to take collecting more seriously?
JH – Around September last year I ran across a thread on guitar picks on "The Gear Page" web-forum. I discovered there were many more pick makers than I was aware of, and a huge range of styles and materials that I'd just never seen. I realised I'd got into a rut with my pick usage, so I decided I should try some of these out and see if there was anything out there that I might enjoy, or that might push me in new directions.
HR – Of everything presented here, what were the most catalytical picks for you in terms of a significant change in thickness/shape/style?
JH – Rombo Diamond: this was the first Jazz III XL shape pick I played, and this has become one of my favourite pick shapes. It was also the pick that brought home to me the range of tones that different picks can give. The Diamond is one of my favourite mellow-toned picks.

Ernie Ball Prodigy Mini 2.0mm: this was the first Jazz III shape and size pick I played. I'd always thought it would be too small and fiddly, but this pick made me realise that it might actually work for me.

HR – There's a fairly broad diversity of materials, makers and shapes here – what constants have you noticed in your collecting?
JH – I deliberately set out to try a wide range of things, and I'm still doing that. I've really grown to like the Jazz III and Jazz III XL shapes, and I've collected a lot of different makers' picks in these shapes, as well as what I call the "Jazz III in-betweenies": same sort of shape but bigger than a Jazz III and smaller than a Jazz III XL. But I am still interested in trying other shapes. The Pickboy "Homebase" is a relatively recent addition that I got because I was intrigued by the shape (and which introduced me to the delightful tone of Pickboy celluloid). I keep finding out about new materials I want to try, and I've also been collecting more thick picks such as the 7mm "Force Push" that Ace Performance Picks recently made for me.

HR – How was your first jump into the boutique parts of the Plectroverse?
JH – The first boutique picks I bought were a try-out set from Rombo, and not long after that I ordered my Hawk Tonebird. I'm very pleased with both of those purchases.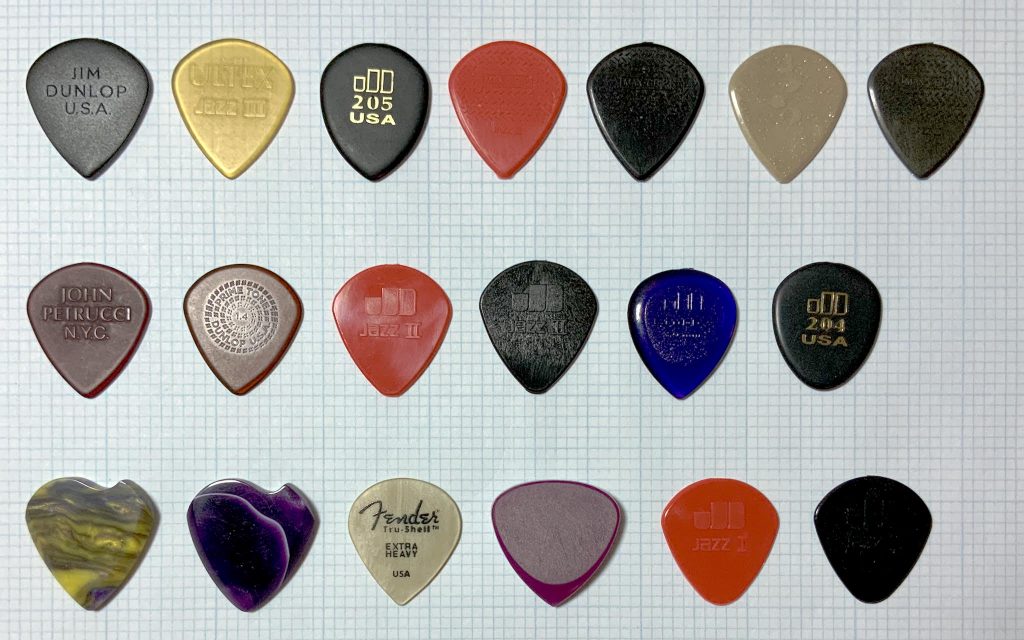 HR – What's next on your collecting list?
JH – I'm interested in trying out the Taylor Darktone series, and I want to get a pick made from Surfite to see what that sounds like (also, they look amazing).

HR – Who's making your favourite picks in the scene at the moment?
JH – This is a tricky one, as there are so many fantastic makers. However, I really love the work that Arcanum Plectra do, especially the Wizard's Alchemy Series. Their picks combine beautiful materials, great design and top quality craftsmanship. You will note that I have two Rogues in the collection. I'm having to expend a fair amount of willpower not to buy another.
HR – What's been your experience of the pick community so far?
JH – Everyone I've encountered has been really friendly and helpful, and there are some truly amazing craftspeople making picks.

HR – What advice would you give someone who hasn't tried picks outside of the mainstream brands?
JH – There are so many wonderful and beautiful picks to be discovered out there, any one of which might add a new tone to your sound, inspire you to play something new, or just be a thing to enjoy in itself. What are you waiting for?
https://www.heavyrepping.com/plectroverseppp/
https://www.heavyrepping.com/review-anima-plectra/
3063
category,post_tag,post_format,maker
Articles
Collector's Tales
guitar picks
handmade
heavy repping
pick collection
pick collectors
plectrology
plectroverse
vintage pick collecting
vintage picks
vintage plectrums