An Introduction To Vintage Guitar Picks – Joe Macey
August 7, 2020
February 10, 2021
This article was written in its entirety by Joe Macey, and is published here for the first time. It is also available in audio form on the Heavy Repping Podcast, and on YouTube in serial form. Many thanks to Joe for allowing me to publish his work, which, save for formatting, remains unedited. – JTD
Part 1 – Introduction
For over 100 years a mind boggling diversity of guitar picks have been commercially available to the general public, yet remain largely unknown and unseen to most guitarists and guitar collectors today. This is understandable considering most guitar picks, branded (having a logo) or not, have a period of retail availability under 10 years, with many styles being offered for a few years or less. Obscure as they may be, there are literally thousands of different vintage picks and those shown here were acquired starting in 1991. Obviously due to space limitations, we'll cover just a few of the sub categories, and get a glimpse of the remarkable diversity of plectrums as they've passed through decades of musical history.

There are two main categories of picks, those with a logo, and those without a logo. Among those with logos, they are further divided into the pre-print impressed logo era occurring before 1950, and the post print ink logo era occurring after 1950. As with most general rules covering vintage picks, there are exceptions, but only a few. They will be noted. As history would have it, there are of course no Rock and Roll picks from the pre-1950 impressed (no ink) logo period of pick production. But there are many artist picks from the pre-print era who were incredibly famous in their day. The artist picks of rock and roll that band collectors acquire today started in the 1970's, and while cool for many reasons in their own rite, as a group they fail by comparison to vintage picks in terms of their shape, color and overall visual appeal. A bold statement yes, but self-evident in the photographs that follow. Granted, there are individual exceptions.

The year 1950 also serves to divide the "Golden Age" of guitar picks from the post Golden Age era. Will Hoover, author of the book "Picks!", describes the golden age as those picks manufactured from American made celluloid. The last celluloid plant here in America shut down in 1949. Existing supplies could safely be assumed to have stocked the market for another year, hence the roll of the year 1950 Is again a point of demarcation in vintage pick history.

Prior to 1980, commercial guitar picks were branded with logo's that included just 4 main categories; artist's, guitar companies, wholesale distributors and their name brands, and the names of the guitar manufacturers who made everyone else's picks. Between 1980 and 2000 those categories expanded and after 2000, those categories exploded to include every conceivable natural, cultural and commercial theme imaginable. As with vintage guitars, vintage picks are also fixed in time and cannot be redone, changed, or remade which lends to their innate authenticity.
The oldest extant example of a guitar pick thus far discovered goes back to 1881, and is in fact not a guitar pick, but a mandolin pick. The Cristofaro is the patriarch of all picks to follow thereafter. But this begs the question of how do we know the history or age of a pick? For the Cristofaro it is explained later on in the legend. The most common methods of authentication include; patents, trademarks, musical instrument catalogs, jobbers, and cross correlation with pick guards which are also made of the same celluloid picks are made of. Know the year a guitar with a distinct tortoise pickguard was produced, and you know the period of time in which picks made of the same celluloid also appeared. Also useful are cross correlations by distinct shape, style, and color patterns. The memories of elders who served in the musical instrument industry have also clarified previously difficult to identify picks. The identity, age and origin of an estimated 5 percent of vintage picks are relegated to methods of extrapolation subject to error, and to fix them within plus or minus 10 years would be considered a good guess. Fortunately this probability of error mainly occurs with unbranded/no logo picks with characteristics that cannot be cross correlated with other vintage picks, so their actual numbers are small.

No preference has been given to any particular brand. Fender and Gibson* alone could have commanded this entire article as they garner the greatest attention as well as having a remarkable range of vintage pick types, but our focus here is diversity. The category of "guitar brands" in general is given first highlight, but it should be noted that all the other categories have a near equal or greater range of diverse styles, with some far more attractive than anything offered by the guitar companies.

*Featured in their own section apart from the photo labeled Guitar Brands
Part 2 – Guitar Brands.
The first interest in picks among non-collectors for purposes other than playing is not the obscure, but one simply baring the name of a specific guitar brand. For that reason they are accorded first priority here. The pieces are arranged progressively according to age from the late 1940's to the late 1970's, starting at the top left and moving down as you would read a page. While many variations in logo, shape and color occur with most brands, duplication has been kept to a minimum in order to feature a greater variety of names. In the first two rows distinct styles of tortoise celluloid and variants thereof are prevalent. Vibratone on "Red Wheat", Framus, Custom Kraft, Rickenbacker and National on "Whiskey on Ice", Gibson and Bruno are printed on "Coke on Ice", Fender's first pick logo, seen against "Slow Gin on Ice" and Maxwell on "Flaming Charcoal." These names for celluloid color were created by vintage pick collectors in order to further define specific styles and more easily identify them. Those styles mentioned were only made from the late 1930's to the late 1950's, and are highly valued for their rarity and appearance. While all attempts are made to establish a factually based background, sometimes that information is simply not available. In the case of the black Guild pick, its date is inferred by the print style. A Les Paul pick (not shown) catalogued from the late 1950's used the same exact gold block lettering on same black celluloid. In both cases the gold lettering deteriorated to a dull yellowish color. It is common for startups, in the case of Guild 1952, to offer a pick with their logo in order to announce their arrival. No earlier styles of the Guild pick are known to exist. As for the Imperial pick, the fact it's done in a particular cursive writing suggest it is from the 1950's, however cursive picks of this style continued into the late 1960's. Other cursive styles spanned the 1950's to late 70's. Epiphone admirer's will easily recognize the "E" pick, far right second row, being true to the Epiphone name as it appears on guitars.

The Marathon pick is the only name featured twice, a wavy stylistic logo with an open scroll surrounding it. The logo shape is the same on both picks but the colors changes; white logo on a trapezoid tortoise shape, and red print on a small white jazz pick giving each a noticeably different appearance. I'm hard pressed to find a red logo featured on any other pick from the 1950's/60's. Next to the Marathon we have a Gretsch T-top logo on their flagship shape, the #348. It's true that many names appear on the 348 during the vintage era, however Gretsch is the only company to choose it as their feature shape for their company name. That honor usually goes to the most common of all shapes, the 351, there are a few jazz shapes as exceptions. The 300 series of identifying pick shapes was created by the D'Andrea co. and is used for sporadically throughout the remainder of the article. Jetstar is also worthy of comment because it is printed on sparkling laminate drum shell celluloid. Blue sparkle face up, and red sparkle on the back.
On row four, the Lyle teardrop is a stand out because of its small unusual shape, that of the rare 368. Fender, Gibson, Martin and all the other big name guitar makers never used that shape. Lyle had their name appear on at least a half dozen shapes. It would be remiss not to call attention to the Conrad in the same row with its eye popping mother of pearl celluloid with a gold streak down the middle. That streak is not printed, it is part of the material. Conrad picks were made in Japan and though unseen in the photo, bare an impressed Japan stamp. The celluloid is Italian, and their guitars were sold in the USA! Also on row four, EKO, Kent and Goya show stylistic fonts exclusive to their own brand as is the case with many other fonts seen in the group photo. Conversely, Fender's first pick logo seen in row one, is done in a spaghetti noodle style that a number of other pick names appear with, compare it with Maxwell in row two. Interestingly, Fender, Gibson and Martin do not use guitar to pick logo matches in this group. Fender's second generation 1960's picks would however match their headstocks. By now it is apparent that many of the brand names that appear on guitar headstocks, appear exactly the same way on their picks.
Rows five thru seven are predominantly 1970's era with the possible exception of the English made nylon red Kay pick in row six. It's also only one of two non-celluloid picks in the group. The other being the Japanese made genuine tortoise shell Sekova in row six. Alvarez and Gurian guitars did something unusual – they printed their logo sideways. This is the same orientation a pick would appear in your hand if you stopped playing, and lifted your thumb to look at it!
All these picks are of interest to those seeking to match a period pick with the same era their guitar was made. I've received calls from more than one luthier restoring vintage guitars, interested in the correct era pick for their finished instruments as case candy in the accessories compartment.
Part 3 – Other Vintage Logo's
For many established pick collectors, these picks are held in no less regard than guitar brand picks as most are not guitar models. Because they are often less known than guitar brands, it further adds to the allure of collecting pieces outside the mainstream. They are arranged as before, starting with the oldest at the top left. And that honor belongs to the 1947 patented diamond shaped Bob Clifton. It is one of the rare exceptions that slides under the 1950 pre-print rule. The celluloid is referred to as "wide-banded" tortoise. This celluloid type is always rare and not seen in any post 1950 tortoise celluloid styles. The Jazz pick next to it is a mystery in terms of origin. But its basic block style print and "whiskey on Ice" celluloid give away the 1950's period of time in which it was produced and is seen up to the mid 1960's in an old Bruno catalog. Out of the seven picks appearing in the top row, you'll notice six of them are not the standard 351 shape. In fact there are seven distinct shapes in row one. All the pieces are very rare and the "The Ault Pick" has a cork grip on the back and feature's not one, but two distinct font styles. For decades I had been aware of this particular shape as also having a cork grip pick, technically labeled the 347c in pick manufacturer D'Andrea's 1947 catalog, but it took 23 years before acquiring the first one to place in the collection. To have it appear with a logo was an even bigger surprise, all the more adding to its character. I consider it the most desirable if not the rarest in the photo, but that is purely subjective as any other could be a favorite to another collector.

Interestingly the vintage logos' of non-guitar makers are much more common not in numbers, but in variety. In other words, far more picks have been produced with the Fender, Gibson and other guitar maker's names on them in terms of sheer numbers, but a far greater number of non-guitar makers individual logo's make up the bulk of the vintage pick scene. They are comprised of Musical Instrument Wholesalers such as Meisel, Coast, Penn, Pacific, Wabash, Lyon-Healy, H-F (Harris-Fandel) and Herco. Individual music stores; Peate's of Canada, Ault, Farber, McNeil's and Bronen. The white 351 with blue print F. N. (Fife & Nickels) of Los Angeles was a haunt of wrecking crew studio players such as Carol Kay and Jazz players Barney Kessel and Alan Reuss. While Barney's work is well known and highly regarding among players, Alan worked with the Benny Goodman orchestra and as a sideman for Billie Holiday, Coleman Hawkins, Lionel Hampton and others notables. Fife and Nichols ordered picks for both players baring their initials. The Telleno, like that of Bruno in the Guitars Brands display, merit more than one category and could have been placed in either display. There are three guitar instructors; Gene Leis of Los Angeles, Pettine (Mandolin), and Mel Bay in the fifth row, green nylon pick. Pick makers D'Andrea and Dunlop of the U.S. are easily recognized. Sharkfin of Sweden in the fourth row and Galli of Naples Italy, fifth row, the oldest pick co. still in existence since 1890. Germany is represented in the sixth row as a Gewa (George Walther) mosaic. Shoji Nakano, owner of "Pick Boy" stands out with a stylized silver "N" on a white three blade prop pick at the tail end of the last row.

Having nothing to do with the guitar at all is "Jet-Tone", a brass horn mouth piece maker, black triangle with gold print. And way of the focus of the music industry and unique for its time is D'Andrea's Ad-Lib series. This group of standard shaped 351 picks featured pop slogans of the 1960's American lexicon, one of which is featured here. "Tune in, Turn on and Drop out", last pick in the fourth row. The expression was forever immortalized when booted counter-culture Harvard Psychology Professor Timothy Leary spoke at a 30,000 strong rally of hippies in San Francisco's Golden Gate Park in 1967. This simply went way outside the box of anything ever printed on a pick in the past, it has the distinction of being the very first to make a social statement on any kind on a pick. Having this pick stuck between the strings at the first fret of any guitar on a stand could indeed be an eye catcher. It would be over a decade until a few less creative popular rock and blue's artist's started having more offensive language, usually some variation of "fuck you", printed on their personal picks.

You may notice the five mosaics; Wabash, Top Notch, Golden Eagle, Syn-Co and Gewa are all printed on different color blends. The term "mosaic" is a misnomer as they are random blended colors and not true mosaics, but that name has stuck and is common usage for them. The 1960's was the most marketable time to produce mosaics and reflected the psychedelic tie dye culture of the day. Mosaics declined in appeal in the late 1970's and were virtual unseen during the 1980's. They've made a comeback in the U.S. since, but not in the diversity of styles they were previously offered in, and certainly not as attractive. Vintage guitars to which this magazine is dedicated, have an allure shared by vintage picks in the eyes of their respective collector's.

The 1967 red "Glo-Pix", first pick in the sixth row, is made of plastic strands woven in such a way as to produce the first 3D effect on a pick. Its appearance changes as it is turned. Two decades would pass until other pick companies would produce picks with a 3D effect not of fiber, but instead using advanced laser printing techniques with metallic based ink. Next to the Glo-Pix is a D'Andrea gold hot stamp imprint on "Crème de Menthe" celluloid – very unique with a very short period of production. Lastly, on the bottom row is a Liskova, black print with a star doting the "I" on snakeskin celluloid, made in France. It's one of the earliest known snakeskin picks with a speculative date c.1985. The company it represents is a mystery. By correlating shape patterns, the Liskova is related to the unprinted French Jura picks in the Mosaics and Patterns display. Begging the question as to why a Slovak name would appear on a pick of French origin?

Part 4 – Get a Grip!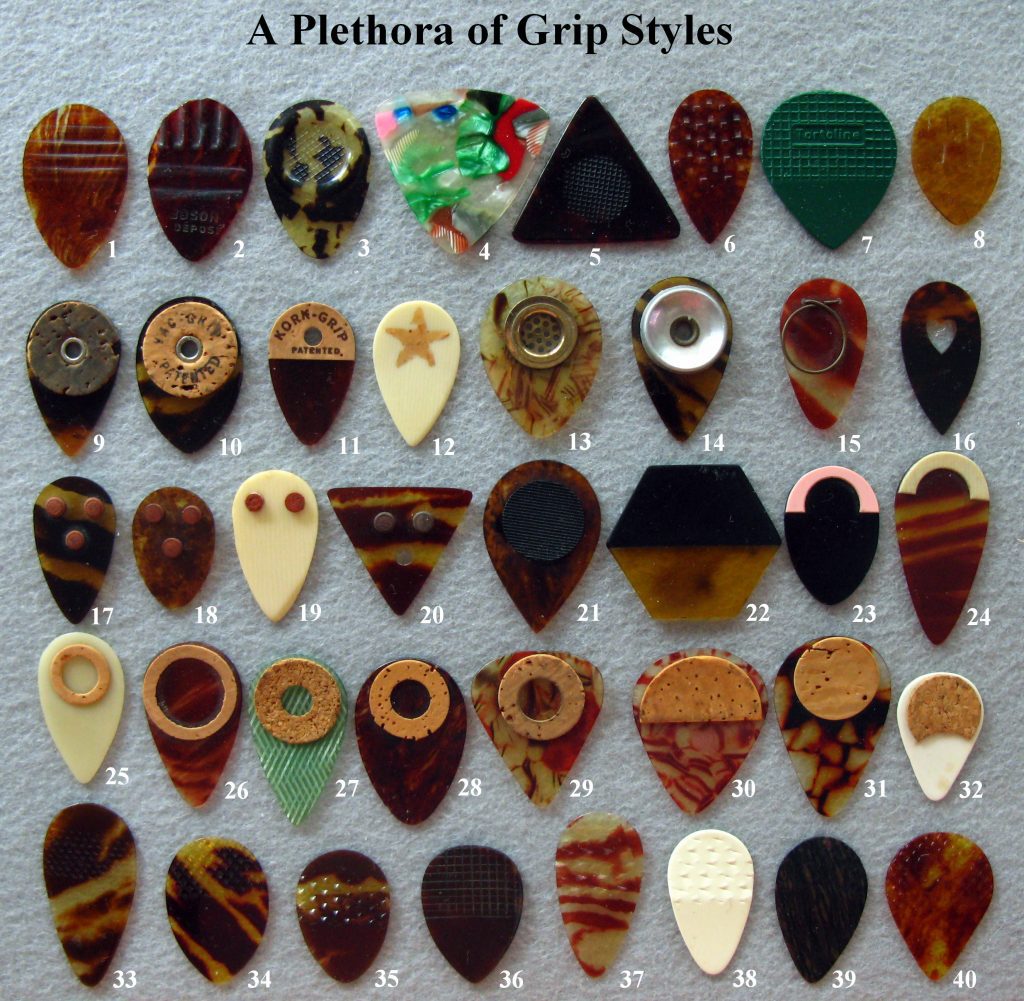 The only guitarist who's never dropped a pick is the one who has never use one! And so the job of creating the perfect non-slip pick has been ongoing for well over a 100 years and continues to this day. This display illustrates 14 distinct vintage grip styles going back to 1907. There are plenty more not shown here. Abbreviated details are provided with verifiable dates where possible, all others are circa estimates extrapolated by comparison to known details of other picks with similar characteristics. All are rare to extremely rare. On a ten scale with 1 being common and 10 extremely rare, they would rank 7-10. For this group I've provided those rankings so the reader may develop a comparative sense of their rarity. Denoted numerically with an "R" in front, ex: R8. An R10+ indicates only one is currently known to exist. Picks 4, 6, 8, 12, 22, & 29 currently hold that ranking. The good news is most collectors have one for more 10+'s in their collections. So they are entirely within grasp and every year vintage picks that have never been seen before surface.
1 & 2 – Fluted Vertical and Horizontal grips as early as 1907 France – Jerome Thibouville-Lamy Cat. R10 & R9
3 & 4 – Cup Grips: German 1926 U.S. Bruno & 1930 Tonk Cats. R8. Japan c. 1965 mosaic shape 346. R10
5 Impressed Cross-Hatch, Rubber Triangle, Germany c.1950. R8
6 Corrugated Grip – Germany 1910 Meinl and Harold Cat. #17. R10
7 Molded Raised Cross Hatched Grip – Green Tortoline (Celluloid), Germany 1930 Haupt Cat. 25 R8
8 Raised Parallel Slat Grip of completely unknown origin. c.1940. R10
9 thru 12 – Early U.S. Cork Grips 1918 thru 1937 (Star Pix.) R10
13 Elton – List as the "Sure Grip Ventilator Pick" but called the "Sink Drain Grip" by collectors. 1953 Meisel cat. R8
14 Vacuum Grip – Pat. 1911 by J. Gaynor, through 1930's R8. Also comes in std. 351 and rounded tri 346 shapes. R10
15 Wire Loop Grip – Pat. 1918 A. Burdwise. R8
16 Heart Hole Grip – Germany 1910 Meinl & Harold Cat. R10
17 thru 20 Rubber Plug Grip, Pat. 1914 by L. C. Knackstedt.* Available through 1930's. R7, R8, R9 & R9 Respectively
21 Non-Skid / Raised Screen Like Abrasive, Gretsch 1933 Cat. or Similar no logo brand. R8
22 Rubber Grip molded to Celluloid (not wrapped tape) most likely German c. 1930 R10
23 & 24 Crescent Grips, attached celluloid circular bands. D'Andrea c. 1930 (also made by Germans as well) R9
25 thru 32 Cork Grips, All D'Andrea except 26, 27 & 32. R7, R10, R7, R7, R10+ (#29), R7, R7 & R8 Respectively
33 thru 40 Corrugated Grips all with varying mechanical corrugated impressions. (Note for 36 below) All R7 or R8
36 Hand Scribed Cross-Hatch Genuine Tortoise Shell, Germany 1936 Edelton Cat. and as Late as 1958 B & J Cat. R8
*The Original Knackstedt appears with the patent date "Pat Nov 10 – 1914" impressed around the center plug for the duration in which it was patent protected. Those thereafter did not have this impression.
The cork grips have varying specs in cork size; thickness, inner and outer diameter, and composition (natural or granulated cork) except for 28 & 29 which are the same. Most of these cork grip styles would disappear from catalogs by 1960.
The corrugated were produced by various manufacturers' dating from the late 1920's (far left) and only #40 is a confirmed D'Andrea. From about 1950 onward, D'Andrea used a corrugated press that also embedded its "D'A" logo into the celluloid. From the 1950's through the early 1980's they were also the largest producer of cork and corrugated grip picks. While their models are less difficult to locate than the others, it's still no easy task.
Part 5 – Mosaics and Patterns
Producing celluloid in these attractive patterns was as much art as craft, and that knowledge disappeared with the craftsman who lost their jobs when U.S. made "golden age" celluloid came to a close in 1949. The Italians largely supplied the U.S. pick market thereafter and while they made their own attractive celluloid's, they were of course in different patterns than had been previously produced in the U.S..

None of the lively colors or patterns these picks display are printed. The material itself is made that way. In fact, printing on them would simply interfere with their appearance and detract from the printed logo or message itself. That's why most of these are never printed on, it's like spray painting a message over a piece of artwork, it just doesn't work. But the lack of a logo or grip features that could lead to their identity, is further compounded by the fact they don't show up in vintage musical instrument catalogs at all. Yet many can still be identified in terms of country of origin and era. Fewer can be identified by manufacturer, but that too is still possible via cross comparison of patterns and distinct shapes. I'm confident twenty-two of the first thirty-five in rows one thru five are golden age (pre 1950). And all the golden age pieces are U.S. made. Rows six and seven are another matter, they are all French, more details on those to follow.

The entire first row shows seven different mosaic patterns. Pick #1 is the oldest style mosaic known. Made of turn of the century (not this century) French celluloid by D'Andrea in the 1930's, it's come to be known as the "crayon mosaic." Unlike most translucent mosaics that followed, the colors are solid and crisply separated from one another, rich and more intense. It was produced in well over a dozen different shapes and hales as the king of all mosaics commanding the highest prices. A long mandolin pick, dark and dull in appearance sits next to it c. 1940, much rarer than a crayon mosaic and featured here because of its elusive background. I suspect it to be a transitional mosaic to the brighter types that would follow in years to come. Numbers 3 (a true confetti) and 4 (striated) are 1960's Japan. Identifying their origin is simple, a "Japan" impression appears in very small lettering. All Japanese vintage picks have this impression, and those that don't simply missed the stamp during production. Japanese picks started appearing in U.S. catalogs around 1958, but evidence suggest some types arrived prior to that. Next is a German made mosaic in a 348/351 hybrid shape. Six is a 1960's D'Andrea shape 359, and lastly at the end of the row, a real bright clown barf variety.

Row two thru five are all pattern pieces with rarity from 7 to 10. The most peculiar is #20, a laminate believed to be and by all appearances, a women's nylon stocking sandwiched between a bottom white layer and a lacquered top c. 1940.

The last two rows are all French in origin. Ten of the fourteen are laminates. They are called "The Jura's" because that's the geographical location they originated from in France. The factory that produced them or company that distributed and sold them, is unknown at this time. Compare them with the mostly U.S. piece's in the first five rows, the differences are distinct and obvious. Those such as 41, 42 and 46 give the impression of some form of modern art, and 43 looks like part of an actual painting. Picks 38, 39 and 44 are shapes only seen with the Jura's. Not shown are two more shapes exclusive to the Jura group. Their dates range from the 1930's for the non-laminate flat picks like 36 and 38, to anywhere after WWII for the rest.

The flatpicks are most likely made from a German celluloid rubber hybrid material as confirmed by a burn test. Prior to that test, is was believed that only pure celluloid could be made to be that attractive but the Germans were the sole masters at producing rubber picks, and both rubber and celluloid were manufactured in the same factories. While #44 has the nylon stocking appearance of the American #40, it does not have the lacquered surface, the red flower #47 does have a lacquered surface however. All range from 8 to 10+ in rarity. Though not shown here, several dozen more Jura color patterns exist. The crafters who made them were obviously inspired to stay in the creative process in order produce such a large variety of patterns and invent five new shapes. Noticeably missing from their inventory is shape 351, not a single Jura appears in America's most marketable pick shape that would eventually be adopted across Western Europe. That reason alone lends to their authenticity across the board as vintage pieces that possibly precede the 1960's, but until further information surfaces as confirmation they place in history will remain speculative.

Part 6 – Fender and Gibson
Part 6a – Fender
These are the oldest printed logos of Fender and Gibson picks. Of the five Fenders, picks #1 (Standard 351 shape) and #5 (Jazz shape 358 ½) were the first logos used by Fender, and the only two shapes available when Fender started printing their name on picks around 1955. Just as with the "Spaghetti Logo" on the headstock of 1950's Fender guitars, pick collectors also call the first Fender logo (far left) by the same name, but they are obviously different in appearance. The small jazz pick is termed the Fender "F" pick. The spaghetti logo continued to be featured in Fender pick advertisements until at least 1964 at which point, like the headstock logo on Fender guitars, was changed to match (accurately this time) the headstock logo as it appeared on their guitars and is known as the Perine design after the designer himself. Vintage guitar collectors certainly want to match a 1950's Fender pick with their 1950's Fender guitar. This can still be done with spaghetti logo picks because several celluloid styles specific to the 1950's were used by Fender. The jazz pick on the far right, featured on an early "wheat straw" style is one of them. If you were to find a 351 Fender shape on that celluloid, rest assured it is from the 1950's. There are other distinct 1950's tortoise celluloid styles Fender used not shown here.

Noticeably absent from all five Fender picks is the trademark R symbol. While CBS bought Fender in 1965, it was not until 1971 that they received a trademark for the Fender name. It is safe to assume Fender picks missing the trademark were made in the 1960's, but not necessarily pre-CBS.

Pick #2 is named the backwards "F" logo by pick collectors. A close look at picks one thru three reveal slight variations of the 351 shape in all three. Also called the Ernie Ball shape because so many early E.B. picks are found in that shape. D'Andrea was the only known producer of Fender picks from the start of their logo and for decades thereafter, that particular shape coincidentally just happened to be adopted by E.B. who in its early years, had other companies produce his company's strings and picks.

The most intriguing Fender is certainly the middle pick with the second generation F style. Excruciatingly rare and certainly a short run promo likely intended for a 1960's Chicago NAMM show. The logo for pick #6 on the far right was produced from the 1960's through the 1980's by the millions in a variety of colors and shapes, yet trying to find them today requires some searching. Like combs, they just seem to disappear.
Four of the five Gibson logos are different, only #2 and 5 are the same, but a different color. The arch logo was a favorite extending decades back into the pre-print era of Gibson picks but does not match any Gibson headstock I am aware of. Pick #3, also an arch logo, but in the largest font size ever featured on any of their picks. Picks #1 and #4 do match headstocks Gibson has used and the splash logo seen in #4 dates to 1960! It continued to be used through the 1980's on their black picks. Identifying 1960's versions of the splash logo are easy because they are on less common shapes such as shape #360 in this case, and featured in tortoise, not black. As with fender, this is just a small sample of Gibson vintage picks produced post 1950 through the 60's. Picks #2 thru 5 are definitely D'Andrea made, and looking closely above the blue arch logo, you can see the "D'A" logo in cursive as part of the corrugated impression, it's just above the letter O.

While this era marks the beginning for picks baring Fenders name, Gibson picks extend back another 40 years into the pre-print golden age era. Just as a matter of reference, the most diverse and colorful Fender picks were made during the 1990's and could be the subject of an entire article alone.

Part 6b Gibson Golden Age
Gibson Golden Age picks go back to at least 1914. Here are three all in different shapes and tortoise patterns. The long mandolin pick on the left is their first pick logo "The Gibson". The other two are both c.1935, but appear earlier and later respectively as the differences between the text here and photo ages suggest. Unlike guitars, picks have a wider latitude in terms of their dates of production. There are dozens of Golden Age impressed logo models made in a variety of tortoise patterns as well as ivoroid, white and black. D'Andrea produced many of them after 1922. Prior to and concurrent with D'A was another company, most likely a Chicago based manufacturer as yet to be identified who made picks for them as well. The big mandolin pick on the right was dated by comparison to a 1935 S.S. Stewart guitar pick guard.
Photo A (Cristofaro)
Oldest verifiable pick known to exist. F. De Cristofaro left Italy and traveled Europe entertaining audiences with his brilliant mandolin playing. He settled down in Paris and set up shop as a teacher. In 1881 he released his first instruction manual for mandolin. It contained an illustration of a pick having the same shape as the one shown here. His second manual was published in 1883. By 1890 he was dead. As a mandolin instructor it would have been a priority to ensure his students had the correct mandolin pick and fortunately he left little guess work as to its origin The word "L'Incassable" translates from French to English as "indestructible!" The material is celluloid. This is one of only two Cristofaro's known to exist.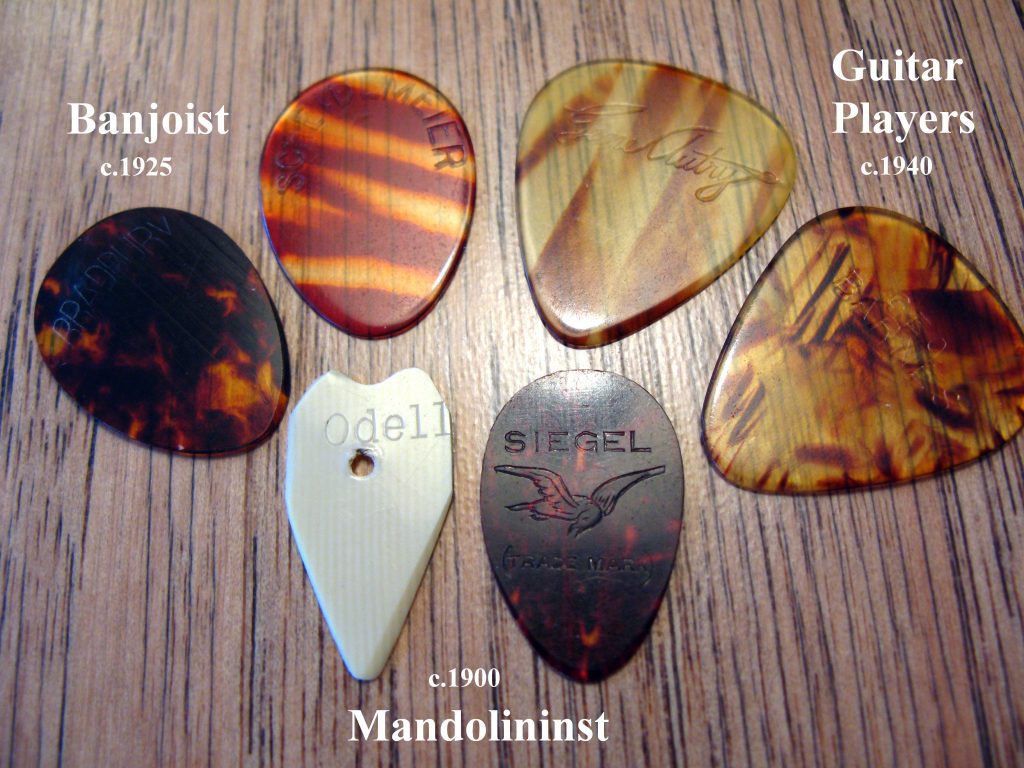 Photo B
The shapes here are specific to their respective instruments as advertised in old catalogs. There were a variety of shapes of the no logo variety advertised as banjo pick during the 1920's but banjo picks appearing with an artist or brand name were always short ovals and stout, mandolin picks oval as well but elongated. The two on the right of course are standard 351 shaped guitar picks shapes as we know them. The names on those picks while largely unknown and forgotten today, were all top level musicians in their time. Among collectors, picks baring their name are held in the same or greater esteem as impressed Gibson picks. As one collector put it, "They are the Jimi Hendrix's of their time." Those curious to investigate further will find their full names listed as; Frank Bradbury, M.J. Scheidlmeier, Gene Autry, George Barnes, Herbert Forrest Odell, and Samuel Siegel.
Photo C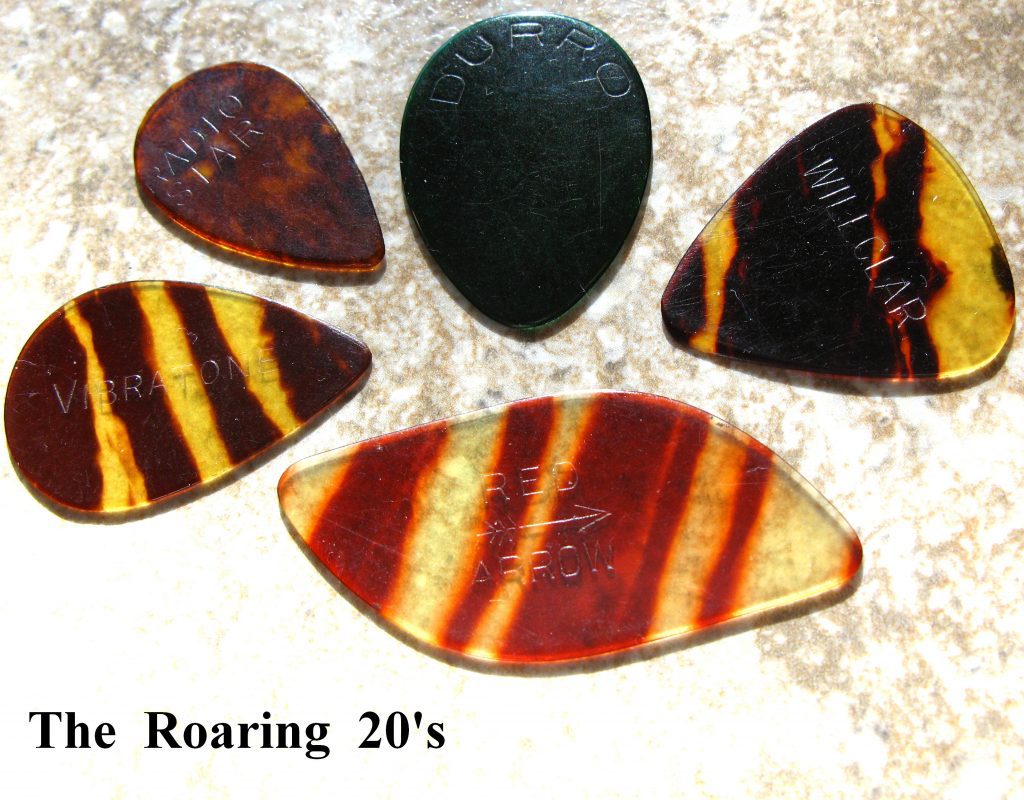 Vibratone
Brand name exclusive to St Louis Music co., a large Midwest distributor, Est in 1922. Mandolin pick on wide banded tortoise celluloid.
Radio Star
A mandolin pick impressed on 1930's "Army Brown" celluloid, a type used exclusively by D'Andrea. Advertised in 16 models. Why a Radio Star? Because that was the pinnacle in entertainment achievement in the 1920's and 30's, there were no TV stars!
Durro
A brand name of Buegeleisen & Jacobson, a New York musical instrument distributor. Among the instruments they distributed were Salvadore De Durro violins. So here we have a banjo guitar pick named in honor of a violin maker!
Willclar
Musical instrument wholesaler Est. in 1925. Unknown city. Their bread and butter was instruments, most likely this pick was produced to herald their arrival in 1926 as is the case with many startups.
Red Arrow
Advertised in 24 models. Mandolin pick on wide banded tortoise celluloid style. Distributed by Mills Music of NYC. Irving Mills owned a publishing co. and recording studio in NYC that Eddie Lang was part of. He promoted the careers of many famous musicians including Benny Goodman. Among the other picks he sold – Radio Star! The historical significance and interconnectedness of so many in the music business becomes clear when you consider Mills Music, Eddie Lang and D'Andrea pick co. were all in NYC at the time.
(Photo D) Lang & Reser

Eddie Lang (1902-1933) a top jazz player in his day, endorsed Gibson and played an L-4 and L-5. Joe Pass considered him one of 3 great jazz guitar innovators. Harry Reser (1896-1965) a well-respected banjo player who backed other artists such as Bing Crosby and Peggy Lee, penned books on guitar, ukulele and banjo playing. Both artists are found in Gibson catalogs from the 1930's intermingled among Gibson picks.
Photo E

All three represent large musical instrument wholesalers and publishers. The oldest is the Ditson of Boston, Ma. c.1893, verified via a celluloid pick guard on an 1893 Howard mandolin. The B & J mandolin pick, c. 1925. Like the Cristofaro, it advertises the city of origin right on the pick! Currently the only two impressed picks I am aware of to do so. Lastly, at the top is a Bruno on early "Tiger Striped" celluloid impressed on a trapezoid shape, c. 1940. The U.S. had abandoned use of this shape in the late 1940's, but it was picked up and copied by the Japanese, and saw commercial use again starting in the 1950's, namely by Herco as part of their cabinet assortment of 15 different shapes.
Photo F
Rarely seen Martin and Gretsch impressed logos. An earlier version of Martin appears with the C.F Martin logo. There are no known versions of an earlier Gretsch.
Photo G
The middle white U.S. mandolin pick shows the round Wurlitzer trademarked logo. Howard was the oldest son of owner Rudolf and succeeded him as President. The 1915 Wurlitzer catalog advertises the Howard mandolin pick as no. 2472. Though not apparent in the photo, the printing is in amazing detail, sharp and clear. The smallest semi-curved font below Howard reads "The W. & H. Co, Newark, N. J." If that is the identity of the company who made the pick for Wurlitzer, they weren't sharing their print technology with anyone else in the pick business as 35 years would pass before printing on picks would become popular.

The Boson and Atlas on either end of the photo were styles that the Germans co-opted. But why not, the French stand as the first great innovators of picks at the turn of the 20th century. The fact that they successfully used gold print on a pick 20yrs ahead of the U.S. is no surprise.
Photo I
In and of themselves, one would be hard pressed to identify these as guitar picks save for the fact images appear on the actual patents. A wire pick was eventually patented in the U.S., over 60 years later. This metal English pick was known to me for over 10yrs after having completed patent searches with the USTPO and European Patent Office in 1999. I was amazed to find this one among other picks in a group of picks online. The middle 3 blade pick closes into one, or splays out into three. The Germans also made the same style pre WWII. The two tiered Caron on the right was produced in a quantity of 10,000 and distributed out of Orange Co. Ca. by Rickenbacker as inventor Conrad Caron (d.) explained to me in an interview. It separates in half and can be adapted to hold multiple tips. This adaptation was not marketed however and he kept it among his other pre-patent prototypes.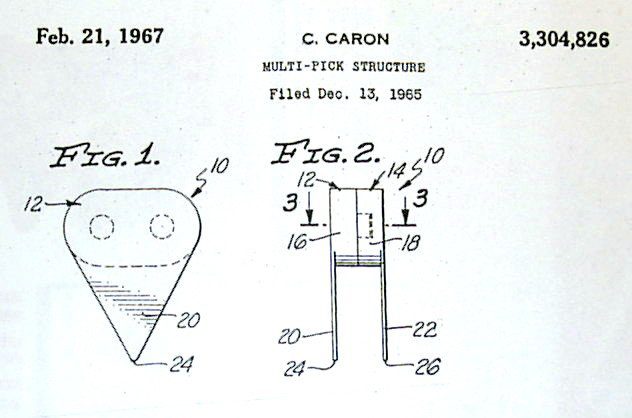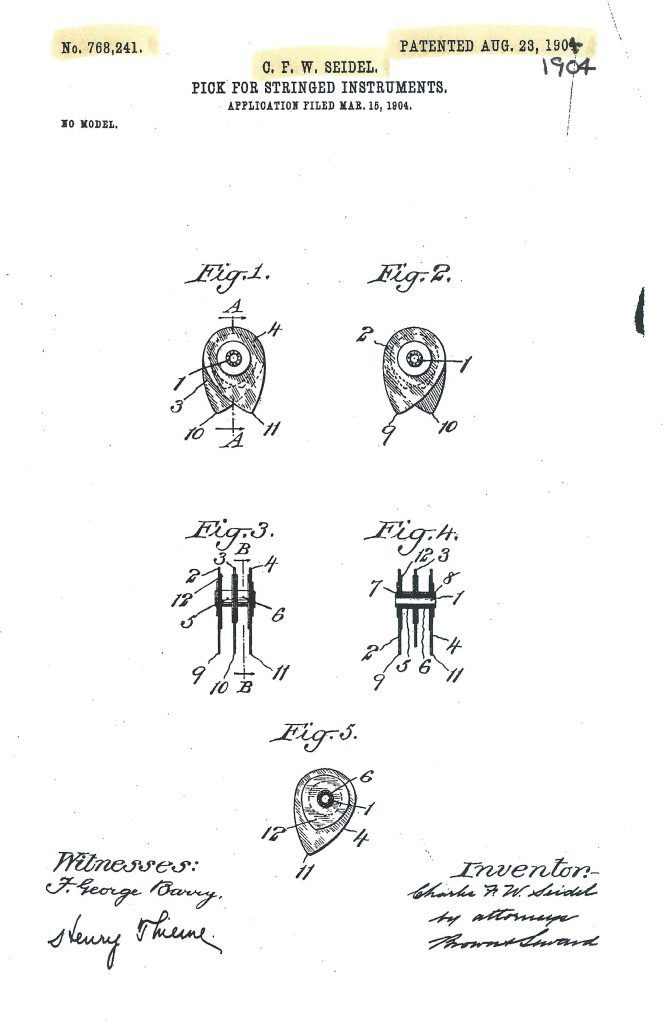 Conclusion
Considering the picks shown for this article represent less than 3% of the collection they were drawn from, and you get an idea of just how many different kinds of vintage picks there are. Previously unknown vintage models keep surfacing every year both in catalogs, and as real examples. Details of the picks shown here are far more expansive than space would allow for this article, and for those newly exposed to this hidden world, just looking at them for now is sufficient for apperception. I had done just that for my first 5 years as a collector. Once I began investigating their history though, I became equally fascinated by their background, place in time and history, and relation to one another.
While a vintage guitar collectors first priority may be to match a correct period pick with their vintage guitar, having a Jura, unusual vintage grip, or any other vintage pick for that matter as a compliment to the name brand piece would certainly stand out in an accessories compartment of a case once displayed. Some guitar collectors have already started collecting vintage picks as their interest piqued after being exposed to the previously unknown world of something once considered meaningless beyond its function to pluck a string.
The author claims all responsibility for errors. Please direct comments to: [email protected]
https://www.heavyrepping.com/review-honey-picks-flight-3mm/
https://www.heavyrepping.com/review-plextrum-polycarbonate-0-75mm/
3063
category,post_tag,post_format,maker
Articles
Media
YouTube
brian bouchard
celluloid
collecting vintage guitar picks
coupe devillez
electric guitar
guitar
jeff white
joe macey
pick collectors quarterly
picknet
series
vintage collecting
vintage guitar picks
vintage plectrum
will hoover
youtube