A Deeper Focus – Yoshiya Satou of Mastermind
February 25, 2022
March 23, 2022
心からのご挨拶! Fresh from his last triumphant interview, Japanese correspondent Chuck "ピックコレクター" Kirby returns with A Deeper Focus. Perpetually chasing the best players in the East, Chuck talks to Yoshiya Satou of Mastermind about choices, chops and Dunlops. それについてのすべてを読む!
-JTD
---
Greetings once again guitar pick fans and all fans of virtuoso guitar players from around the world. especially from the country of Japan. A land teeming with world class players in any genre you can name. Last month here at Heavy Repping! we kicked off the new year with my interview with Yoshiyuki Watarai, one half of the dynamic duo of guitar players in the prog/power metal band Mastermind.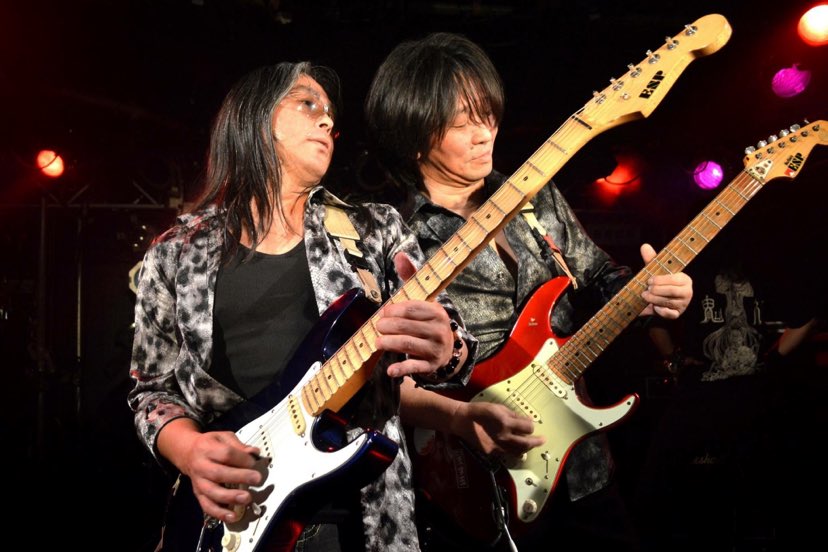 As promised for this month, my interview with Yoshiyuki's fellow shredder, Yoshiya Satou, will not only explore the details of the choice of his picks, but will also provide a cross section of his choice of guitars and gear, as well as his numerous projects he is involved in.
Yoshiya and Yoshiyuki founded Mastermind in 1995 and released 4 full length albums from 2000 to 2006 and an EP in 2015. Both gentlemen hinted strongly at a Mastermind comeback soon, which would be fantastic news, as this band is really outstanding and deserves worldwide exposure.
---
Now for the interview itself. We'll take a look at Yoshiya's musical career beginning even before the days of Mastermind, coming up to the present day, while also examining his gear and then his selection process he's taken to arrive at his choice of a favourite type of pick.
CK: Please tell us how you formed Mastermind with Yoshiyuki Watarai.
YS: In 1995, Yoshiyuki talked to me about wanting to start a new band. That led to the formation of "Mastermind". The members at the time of formation were myself and Yoshiyuki, and we were the guitar players of the band "Out Standing" which was active in the latter half of 1980. The other band members were Norio:(Vocals), Ueda:(Bass), and Cozy: (Drums) of "Jack Hammer" who were active around the same time.
CK: Yoshiyuki said that Mastermind may become active again. Do you hope that will take place and do you know when?
YS: Yes, of course! ️ Mastermind has not been disbanded and may be reactivated.
If possible, I would like to do a live concert this year.
CK: Please tell us how you became active in Sirent Screem and if this is a project that you will continue to participate in. I know that you had a release in 2020 titled "Black Rain". Will there be another album with this project?

YS: About 4 years ago, after receiving an offer to play guitar from the vocalist, Yamazaki and repeating member changes, we produced the first album Black Rain, and another song called Future was used in "Animation-Kengan Ashura" and released as a compilation album. Now that I have left this band, my future activities are on hold.
CK: I know that you have also been active in a Scorpions tribute project called Sasorimode. I know that you just recently played in a live event with this project. Please tell us how this project began and if you will continue to participate in it.
YS: I received a request from a veteran band in the neighborhood to participate as a guitar player in hosting a live event, and decided to join in this Scorpions cover project . After that, I have remained active with them for about 5 years now.
CK: I have also seen that you have been active in a Show-Ya tribute band called Joe-Ya. Is this just a project for live events? Are you active in other projects?
YS: Joe-Ya, our Show-Ya Tribute Band had its first concert on 1/23/22 last month, and we were scheduled to play another concert on 2/11, but it has been moved to 3/5. If there are more offers to play live, we will continue to work. Regarding other projects, I'm involved in a Whitesnake tribute band, Night Ranger tribute band, and a Queensrÿche tribute band and I stay active in all of them. Also, I will bring back an earlier band called Brave Staker and we plan on releasing a new full length album within this year! ️Another new band that was formed last year is called Eternal Ground, and songs are being written, hopefully in time for a live show scheduled in May! ️
CK: I have seen you playing a number of cool guitars such as a Fender Strat, an ESP Strat style guitar, a black Charvel with skull graphic, a blue ESP Strat style, and a white Gibson Matthias Jabs model Explorer. Please tell us about your favorite guitars. Do you like the scalloped fretboards? Also please tell us what "448" means on your guitars.
YS: I use different guitars depending on the band. I mainly use the ESP blue Strat and the Fender natural finish Strat with the scalloped fretboard. I use a scalloped fretboard when playing in a style influenced by Yngwie Malmsteen and my bandmate Yoshiyuki. "448" is the number that represents my name as follows: "Yo(4) shi(4) ya(8)". LOL
CK: Please tell us about your gear, (that includes amps, effects, pedals)
YS: I use a Marshall 2000 amp, and several pedals. I'm also using a BOSS GT-1 effects processor now.
At this point, our discussion shifted to my structured pick survey that is always the focal point of the interview. Let's look at a detailed examination now of Yoshiya's choice of picks and further insight into his technique.
CK: At what point in your guitar playing career did you really start to focus on what type of pick you were using, and what were you looking for in a pick that would really help you to create your style as you wanted it to be?
YS: When I started playing guitar in high school, I liked Ritchie Blackmore and used a home-based shaped pick. After that I used Jim Dunlop's JAZZ III. The pick I was using was a much smaller type of pick so now I can no longer play with a normal teardrop type pick.. LOL
CK: Tell me about the gauge of the pick that you prefer and if you prefer a certain shape.
YS: The thickness of the picks I have been using has been 1 mm for decades. As for the shape, I like Jim Dunlop's small JAZZ type.
CK: Do you have a preferred brand of pick?
YS: Jim Dunlop.
CK: Is there a preferred material that your favorite pick should be made of?
YS: Nylon and Tortex.
CK: Please describe how you grip the pick and if you have more than one method of grip and how you change the grip to use different techniques if that's part of your repertoire. Some players incorporate finger style picking techniques while concealing the pick in their palm or fingers and then bring it back into use during a song.
YS: Perhaps I think my style is an orthodox style. For tapping, I use my middle finger while holding the pick normally.
Only during 8-finger play, do I hold the pick in my mouth. LOL
CK: Do you use the pick to create special effects such as scraping the strings, or using the edge for tapping techniques, or other unique effects that you like to incorporate?
YS: I often do string scraping with the pick. Also, I occasionally slide while tapping with a pick.
CK: Some players change strings after every gig, or quite often. Do you put a lot of wear on a pick before switching to a new one, or do you reach for a new one after just a short period of use?
YS: I change strings every time I play a live show. I use new picks for live performances, but when rehearsing or playing at home, I use fairly worn-out picks.
CK: Do you only use one type of pick regardless of what type of guitar, or song that you may be playing? If you use other types of picks, please describe them as well.
YS: I use NYLON and TORTEX properly depending on the type of song! NYLON is stiff, so it's for shred guitar, and TORTEX has the characteristic that it bends a little, so I use it in a band that has a blues feeling.
CK: Are you, or have you been working with a particular pick maker to make a pick that meets your personal needs and specifications, or do you simply buy off the shelf in the gauge, shape, and brand that you prefer?
YS: I have the experience of ordering personal picks when I was in Out Standing.
CK: If you order custom picks from a pick maker, do you have special printing applied to your pick such as your name or signature and the band logo if you're in a band?
YS: Actually, I'm thinking about having a pick printed with 448 on it. LOL
CK: Many artists are known to have custom printed picks made with their names, band names or logos, and even photos printed on the picks. If you have that done, do you also use those same picks to play with, or do you use those primarily for promotion and to give to fans?
YS: Of course, the pick would also be used when playing live.
CK: How much importance do you place upon your selection of the pick that you use on creating your style and sound and if it's as important to you as your choice of strings, and other gear?
YS: Picks are incredibly important! Occasionally I might use another person's pick as a trial and error, but after that I've always returned to the original JAZZ III.
CK: Do you have any other opinions or thoughts on your picks, or anything else guitar pick related?
YS: I think I will continue to pursue new and different picks in the future. I wish I could find a pick that suits me even more.
CK: I want to thank you very much Yoshiya for participating in my interview and for providing us with interesting details about your career as a guitar player in your many projects, as well as your selection process for the best pick that suits your playing style. We look forward to hearing new music this year from these projects and hopefully the reactivation of Mastermind!
https://www.heavyrepping.com/%e3%82%a4%e3%83%b3%e3%82%bf%e3%83%93%e3%83%a5%e3%83%bc-%e3%83%9e%e3%82%b9%e3%82%bf%e3%83%bc%e3%83%9e%e3%82%a4%e3%83%b3%e3%83%89%e3%81%ae%e4%bd%90%e8%97%a4%e7%be%a9%e4%b9%9f/
https://www.heavyrepping.com/beginners-guide-to-the-plectroverse-iceberg-edition/
3063
category,post_tag,post_format,maker
Chuck Kirby's A Deeper Focus
Writing
boutique
guitar
guitar picks
guitarist
heavy repping
japan
japanese guitarist
plectroverse
plectrum blog
plectrums
shredding